WD Blue SN570
The best NVMe SSD for gaming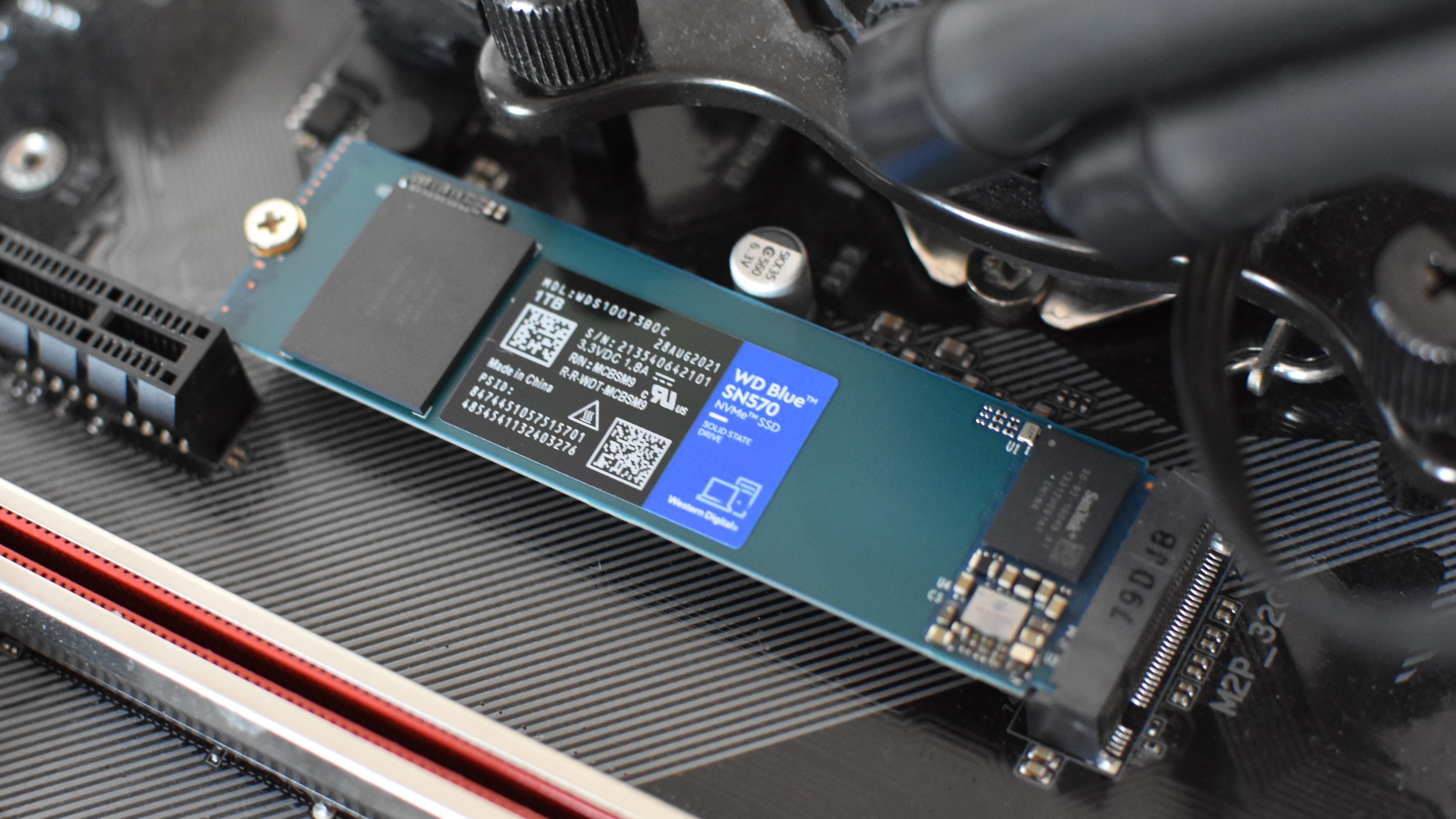 You could also call this the best cheap NVMe SSD for gaming, as the WD Blue SN570 follows its predecessors – the SN500 and SN550 – in targeting a lower-than-average price. You wouldn't know this was an affordable model from the performance, though: the 1TB model I tested easily lived up to its official maximum sequential speeds, and its random read speeds (the most important for gaming performance) could outpace high-end Samsung and WD SSDs too. That includes the (former) flagship WD Black SN750.
Not that it's the absolute fastest NVMe SSD we've ever tested, but that doesn't change the fact that the SN570 is wonderfully agile by both budget-friendly and general PCIe 3.0 standards. Its write speeds hold up especially well in tough workloads, so it's a great all-rounder too, and the single-sided design will help it fit into cramped laptops as well as desktop PCs.
What we like:
✔️ High speeds, both for reads and writes
✔️ Very affordable
✔️ Decent choice of capacities
---
WD Black SN850X
The best PCIe 4.0 NVMe SSD for gaming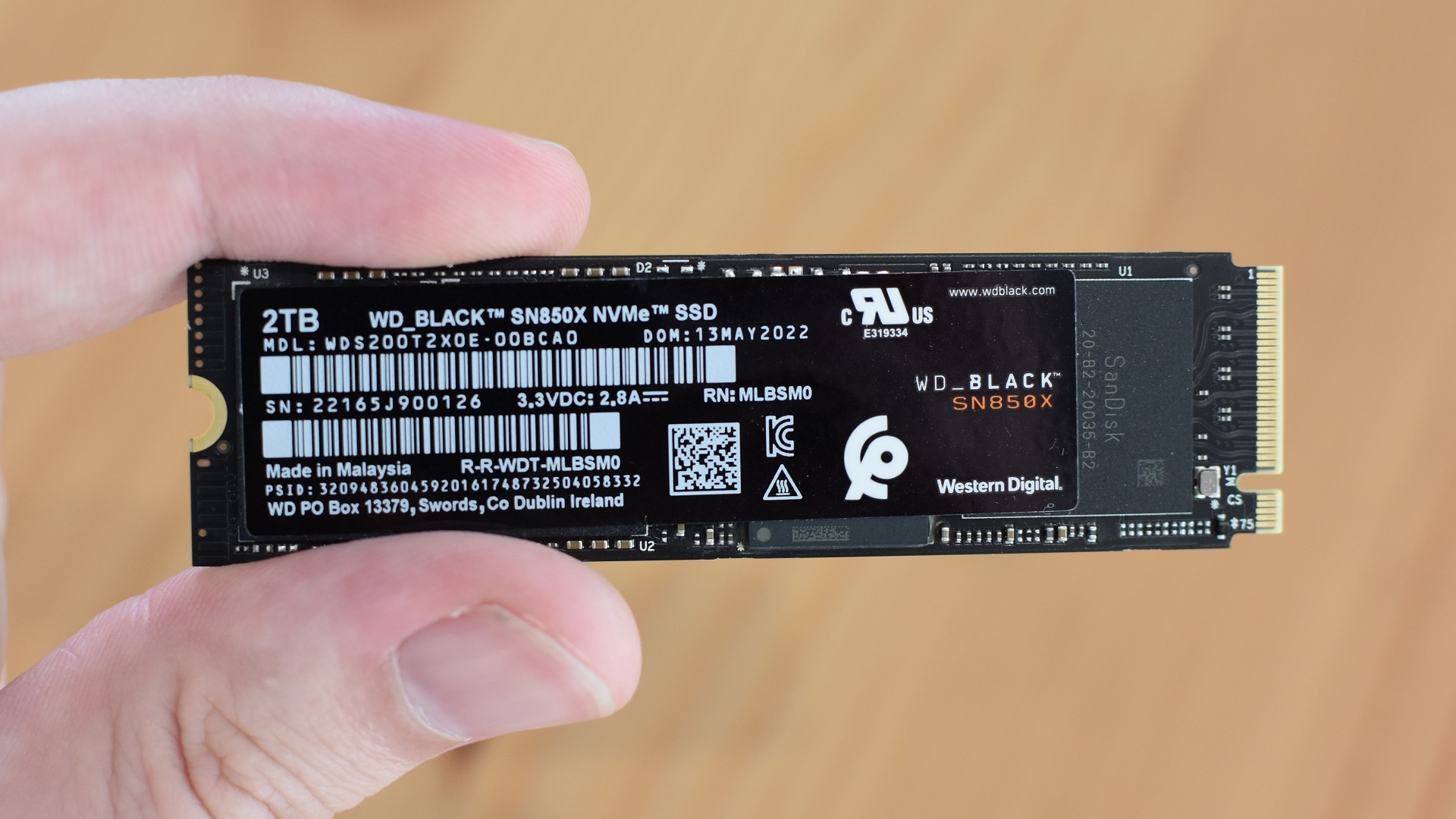 That little 'X' makes the WD Black SN850X look like a mere refresh of the Black SN850. But it's more of an wide-reaching overhaul than it appears, with higher sequential read/write speeds, faster IOPS (input/output performance), controller improvements, and even a new 4TB model.
Most importantly, the SN850X is much faster in games, and faster than every other SSD we've tried outside of the Samsung 990 Pro below. Taking only 6.7 seconds to load a Shadow of the Tomb Raider save, it shaves nearly three seconds off the Black SN850's time, and clearly beats other premium PCIe 4.0 SSDs like the Kingston Fury Renegade (9.6 seconds) and PNY XLR8 CS3140 (7.3 seconds). In the CrystalDiskMark benchmark, its 3187MB/s random read speed and 4261MB/s random write speed results show an outstanding suitability for games and general PC usage alike.
It's a shame there's no longer a cheaper 500GB option, as there was for the Black SN850, but the 1TB and 2TB are at least less expensive than the 990 Pro equivalents.
What we like:
✔️ Outrageously fast
✔️ Not too expensive (by high-end standards)
✔️ 4TB option
---
Crucial P3 Plus
The best cheap PCIe 4.0 SSD for gaming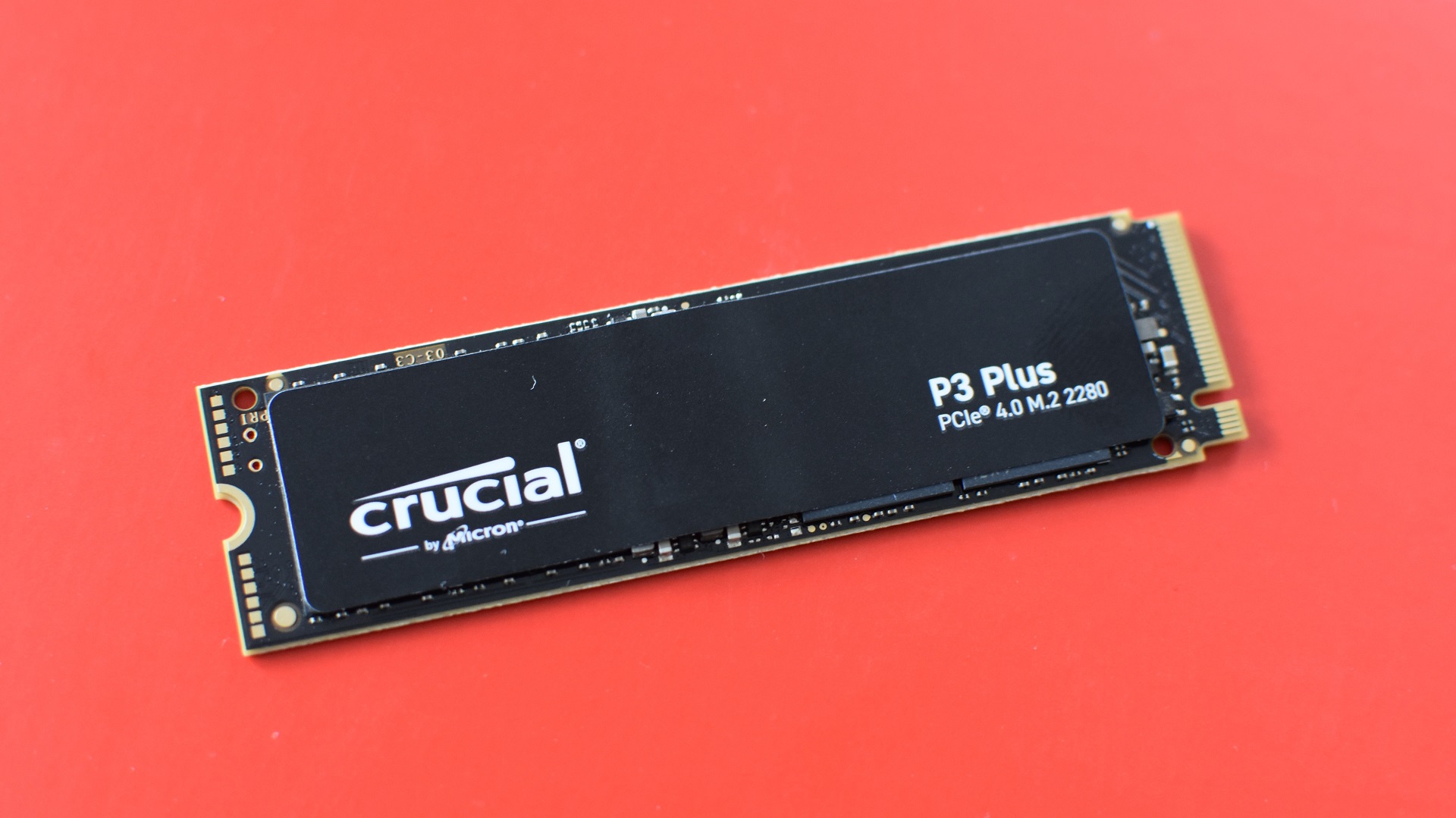 "Cheap" is relative, of course, and occasional sale prices on the WD Black SN850 often make it a lot more affordable than usual. But the Crucial P3 Plus is a good deal all year round, especially when it so clearly outperforms the previous holder of this spot, the WD Black SN750 SE. That loaded Shadow of the Tomb Raider in 10.4s; the P3 Plus only took 7.3s. In our CrystalDiskMark test, the WD SSD posted a read speed of 1622MB/s; Crucial's scored 1689.5MB/s.
Not that they're as pertinent to games performance as read speeds, but the P3 Plus also happens to be a write speeds monster. Its 3118.1MB/s result in CrystalDiskMark and 336.8MB/s in AS SSD's 4K test show that it's doesn't half-arse data writes even if it is more of a value option. Relatively.
What we like:
✔️ Aggressive pricing for 4.0 speeds
✔️ Faster than closest rivals
✔️ Capacities up to 4TB
---
Samsung 990 Pro
The best PCIe 4.0 NVMe SSD for shorter loading times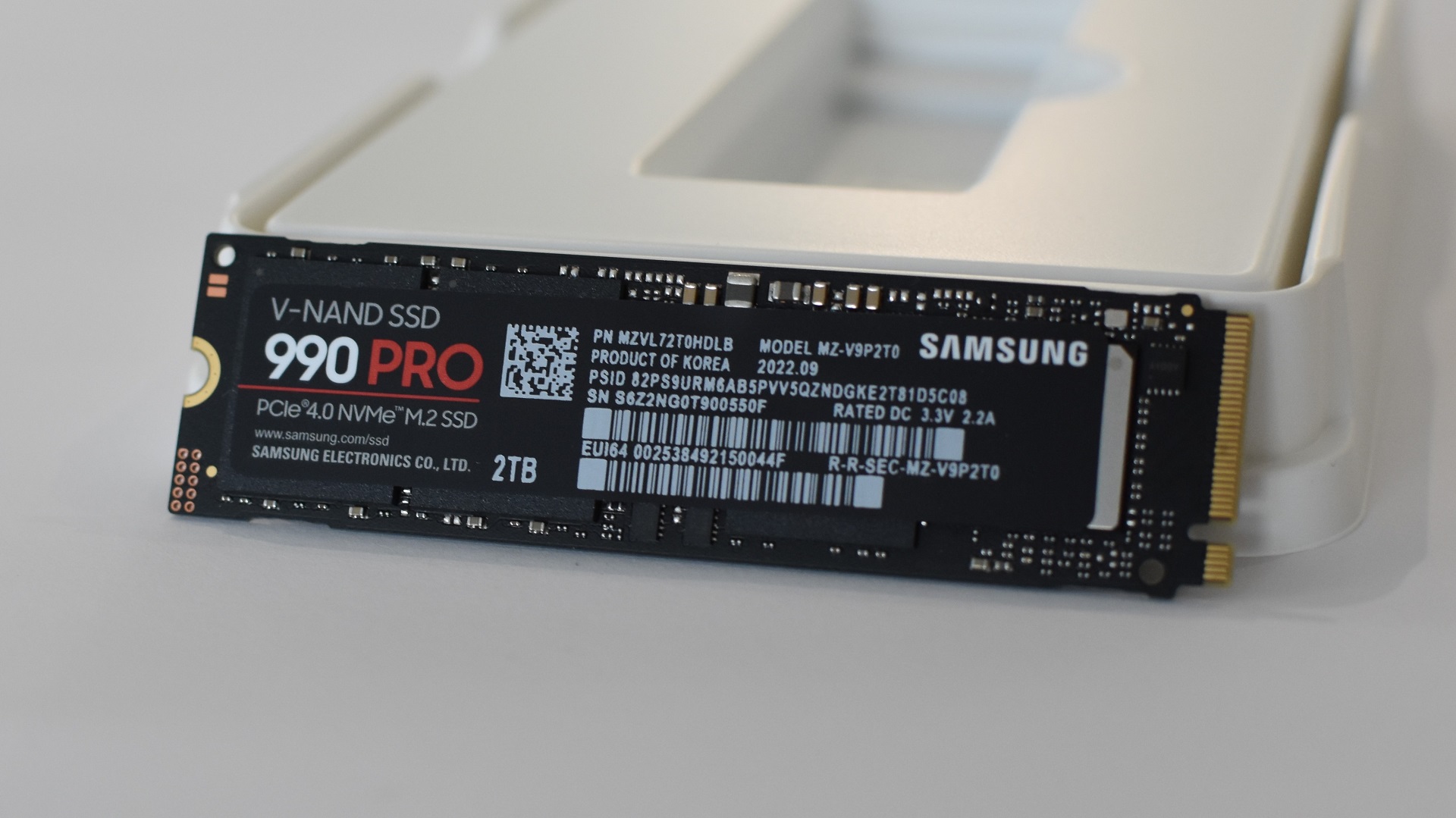 The Samsung 990 Pro comes achingly close to being the best PCIe 4.0 SSD outright, but its steep launch prices make the WD Black SN850X a better deal. Nevertheless, here's what you get for your money if you do decide to go for the Samsung: exceptional read speeds in both light and heavy loading/copying tasks, and record-setting gaming performance.
In the CrystalDiskMark random read/write test, which is more representative of real-life speeds than sequential figures, the 990 Pro shot to 3647MB/s read and 4090MB/s write results. The former, in particular, is about 2000MB/s quicker than the very best PCIe 3.0 drives have managed, not to mention over 1100MB/s faster than the old Samsung 980 Pro. And because better read speeds equal better load times, the 990 Pro launching a Shadow of the Tomb Raider save in 6.6 seconds makes it the fastest we have on record.
As such, it definitely deserves a place on this list, and is arguably worth the big outlay if you're speccing for a high-end gaming PC. A sale wouldn't hurt, mind.
What we like:
✔️ Best-in-class load times
✔️ Superb read/write speeds for general use
✔️ Optional heatsink (tested without)

---
Crucial P3
The best SSD for pure PCIe 3.0 speed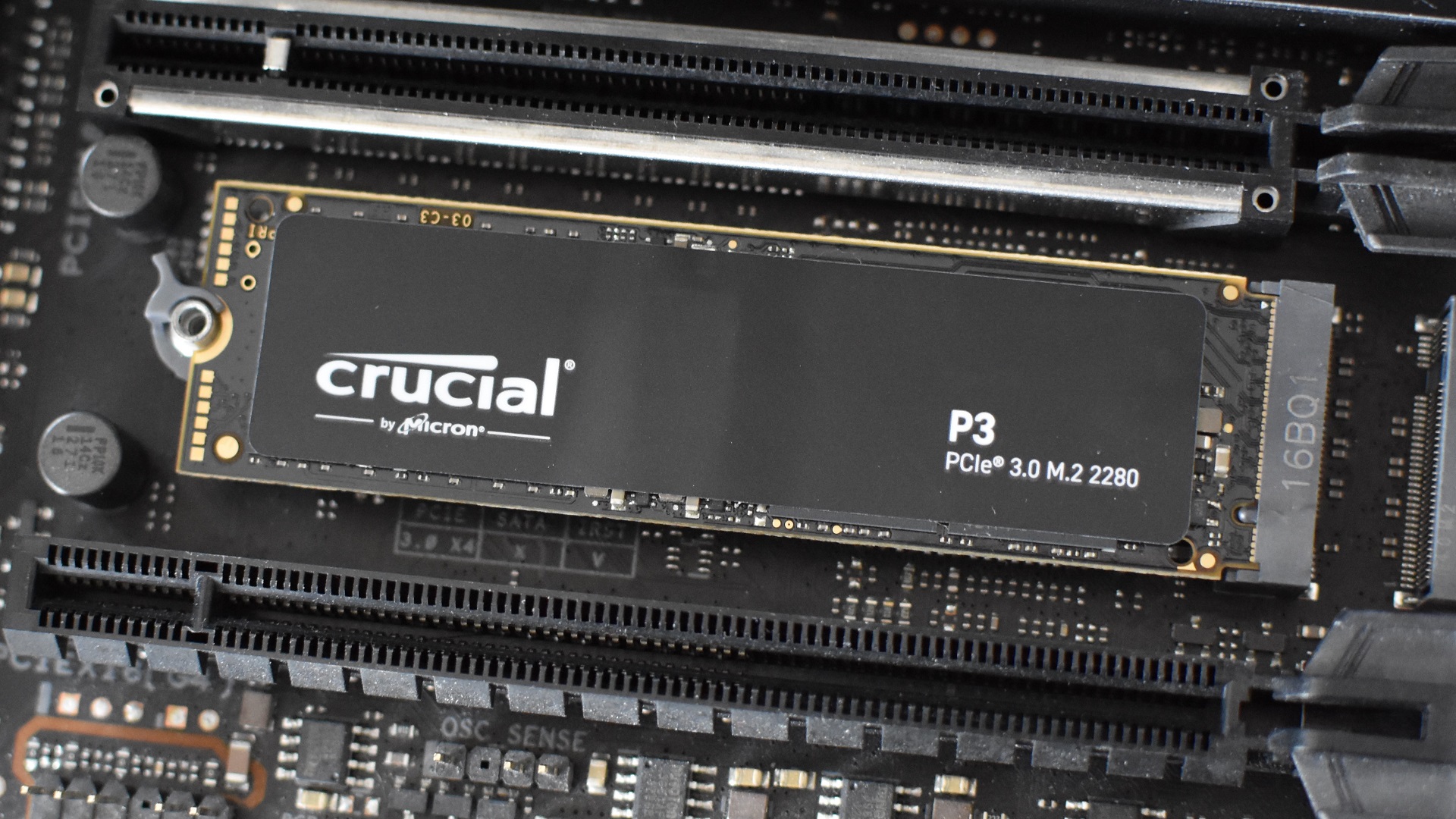 Even it doesn't match the WD Blue SN570 on overall value, there's still a good reason to choose the Crucial P3 instead: in certain scenarios, it's the outright fastest PCIe 3.0 SSD we've tested.
Like its PCIe 4.0 cousin, the P3 Plus, the P3 is a particularly pacy writer, even outperforming some 4.0 SSDs with its CrystalDiskMark write speed result of 3022MB/s. But it's also impressively effective in the kind of tricky read tasks that games rely on, as seen in its excellent AS SSD 4K read speed of 57.9MB/s. When the time came to load up Shadow of the Tomb Raider, it did so in just 7.5s, a mere fraction of a second slower than the P3 Plus – and faster than any other PCIe 3.0 SSD so far.
If you've yet to upgrade to a PCIe 4.0-ready setup, then, the Crucial P3 is more or less the next best thing.
What we like:
✔️ Immense speeds for its interface
✔️ Widely compatible
✔️ Still not too pricey
---
Samsung 870 Evo
The best SATA SSD for gaming
When it comes to buying an SSD for gaming, a lot people still opt for a 2.5in SATA drive rather than a super fast NVMe SSD, if only because the latter tend to be quite expensive and you need a motherboard that supports them. For SATA SSD hunters, then, the Samsung 870 Evo is hands down the best drive for the job right now. Its everyday speeds aren't that much faster than its predecessor, the 860 Evo, but with that drive becoming increasingly difficult to get hold of, the 870 Evo is now our SATA SSD of choice for those.
In fairness, Crucial's MX500 is another good budget option for SATA buyers, but when prices for the 870 Evo are only a fraction more these days, there's little point opting for the MX500 unless you can find it for a substantial discount. What's more, the 870 Evo also comes with a much higher endurance rating than the MX500: 300 terabytes written (TBW) for the 500GB model as opposed to just 180TBW on the 500GB MX500. It's fast, durable, and yet to be beaten on overall value.
What we like:
✔️ The fastest SATA drive you can buy today
✔️ Great endurance levels
✔️ Better value for money than the competition

---
Samsung 870 Qvo
The best big SATA SSD for gaming
In fact, there is one SSD with faster write speeds than the Samsung 860 Evo, and that's Samsung's 870 Qvo. Made from 4-bit MLC V-NAND instead of 3-bit MLC like its Evo counterparts, the 870 Qvo is much better value than Samsung's equivalent Evo drives. Its performance is more or less identical, and it's a heck of a lot cheaper, too. As such, if you're looking to get an SSD that's at least 1TB in size but don't want to fork out loads of cash (either on an expensive NVMe SSD or a high capacity SATA drive), the 870 Qvo is the way to go.
Like the rest of Samsung's drives, the 870 Qvo has exceptional endurance ratings and warranties, and its random read and write times are up there with the very best. Plus, if you've got enough cash, you can buy one that's a whopping 8TB - which is practically unheard of in SATA circles. It's still not as cheap as buying a large hard disk drive, but it's the best you're going to get on an SSD.
What we like:
✔️ Excellent everyday performance
✔️ Brilliant value for money
✔️ Just as fast as Samsung's Evo SSDs

---
WD Black P40
The best external SSD for gaming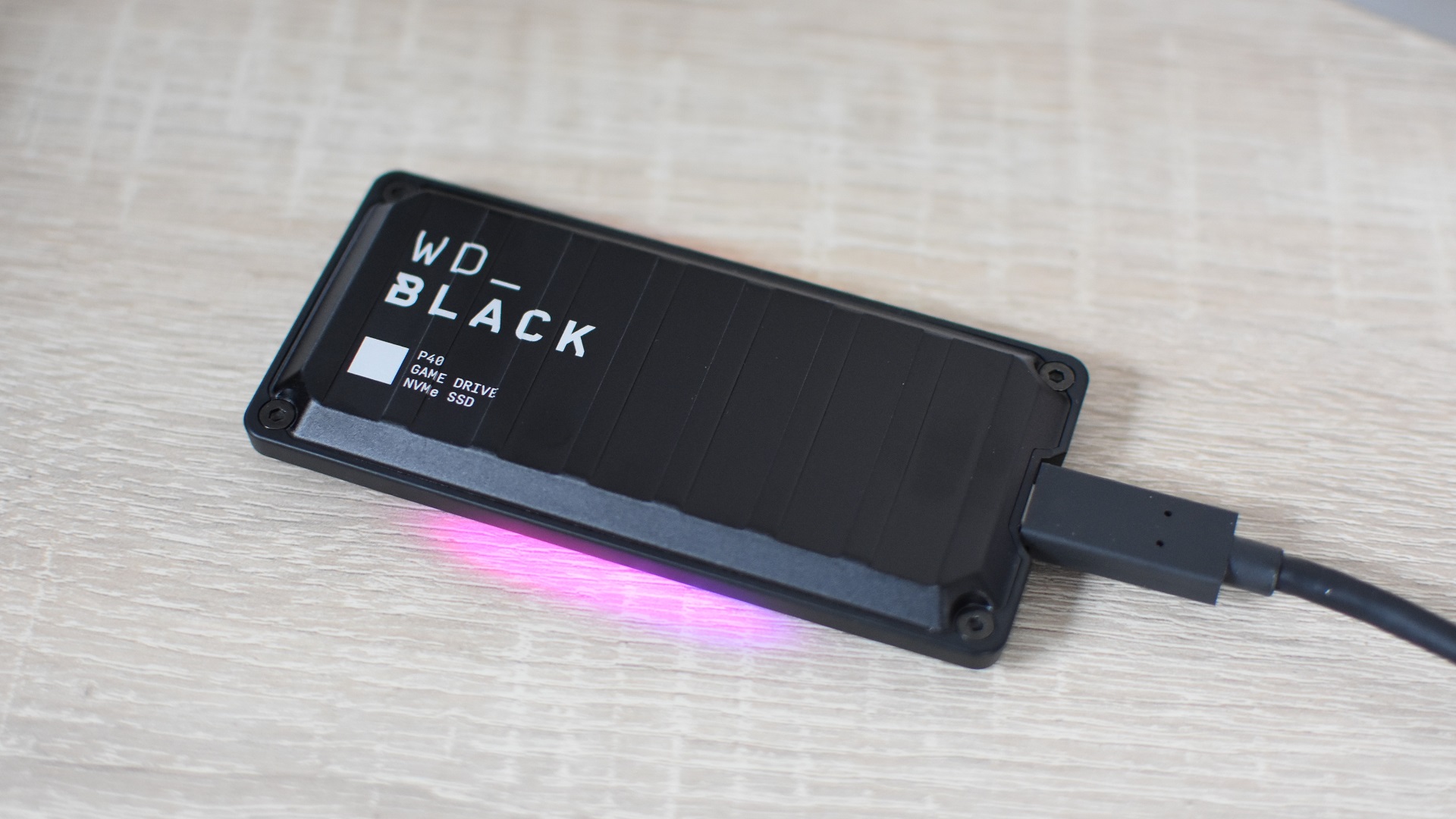 Just between us, readers, I needed a long, hard think about whether to replace the Crucial X8 on this list with the WD Black P40. Both are exceptionally fast external SSDs, especially over a USB 3.2 Gen 2 connection, and the older X8 actually has a read speed edge in a few tests. Still, the Black P40 earns its place here, thanks in part to consistently quicker write speeds and markedly better results in AS SSD's file copy benchmark.
This simulates how long it would take to transfer copies of various files to the drive, much like if you were backing up games installs. In fact, the benchmark has a 'Game' portion specifically, and the Black P40's 435.2MB/s result in it walks all over the X8's 278.2MB/s.
WD's drive is also slightly more compact, if only by a matter of millimetres, and offers a smidge of extra design flair through RGB lighting strips on the underside. These don't undermine durability, thankfully, as the Black P40 still survived a few not-entirely-unintentional drops to my floorboards.
What we like:
✔️ Very fast
✔️ Practical design, with or without RGB
✔️ Includes USB-A adapter

---
Samsung T7 Shield
The best rugged external SSD for gaming
It would be unfair to call the Samsung T7 Shield merely a more ruggedised, fingerprint sensor-less take on the T7 Touch. Besides launching with much more sensible (albeit still relatively high) pricing, the T7 Shield outran the T7 Touch in every single one of our usual performance tests. That includes the AS SSD benchmark's ISO and application copying tests, which are especially relevant to external drives: to give just one, the T7 Shield scored 332MB/s in the game copying test, easily besting the T7 Touch's 249MB/s.
The WD Black P40 is faster and the Kingston XS2000 is more compact, but it's still worth paying for the T7 Shield's added toughness if you want something that will regularly get stuffed in a backpack. Its rubbery exterior adds some drop protection and even with a detachable cable, the T7 Shield is water- and dust-resistant to the IP65 standard: enough for a total blockage of dust and dirt ingress, or to withstand an accidental drinks spillage.
What we like:
✔️ High speeds
✔️ Durable but lightweight design
✔️ Both USB-A and USB-C cables included
---
Kingston XS2000
The best USB 3.2 2x2 external SSD for gaming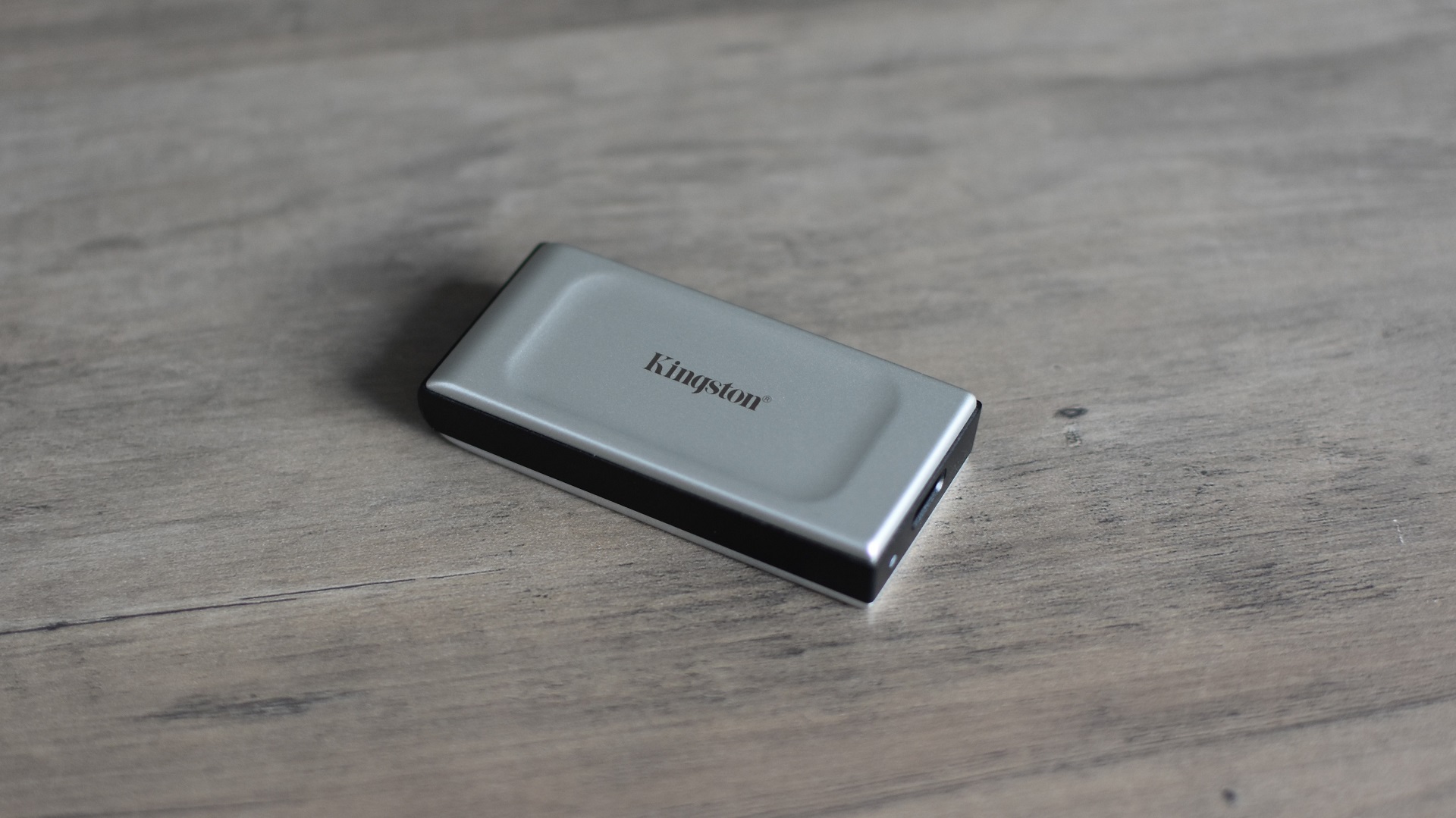 Portable SSDs are tied up in a lot of silly naming conventions for USB standards, like how "USB 3.2 Gen 1" is basically just USB 3.1. All you need to know about USB 3.2 2x2 is that it's the fastest USB standard you can currently expect to find supported by gaming motherboards, at least until USB4 adoption picks up.
Granted, even USB 3.2 2x2 mobos are still pretty rare, and I don't recommend the Kingston XS2000 if you're going to limit it to lower USB 3.2 Gen 2 speeds. But if you do have 2x2 hardware, you're in for a treat, as this wonderfully pocket-friendly SSD can more than match its advertised sequential speeds while flying through more challenging read and write tasks. In the AS SSD copy benchmark, it completed the game copying portion in 1.21s, or at 1138MB/s; the Crucial X8's best showing, over USB 3.2 Gen 2, was 3.3s / 420MB/s.
What we like:
✔️ Exceptionally fast over USB 3.2 2x2
✔️ Very small and light
✔️ Bundled with protective sleeve
---
Frequently asked questions
SATA SSD vs NVMe: what's the difference?
SSDs are split into two main types right now: SATA drives and NVMe drives. 2.5in SATA SSDs are the easiest drop-in replacement for a standard hard disk. These plug into a SATA 3 port on your motherboard, and most modern PC cases have mounting points for 2.5in SSDs on the back of the motherboard tray. If yours doesn't, you can use a cheap adaptor (really just a 3.5in-wide metal plate with screw holes) to fit the SSD in a normal 3.5in hard disk bay. The SATA 3 interface has been around since 2009. It's several times faster than a mechanical hard disk, but it's also not really quick enough to keep pace with the very fastest SSDs that are around today.
If you're in the market for a super-fast SSD that won't be encumbered by its interface, you need to move beyond SATA to NVMe (also called PCI Express, PCIe NVMe, or just NVMe). Most NVMe SSDs are are just 22mm wide and 80mm long (so about a third shorter than a stick of RAM) and are mounted directly to the motherboard in an M.2 slot, so no more having to route SATA and power cables around your case. If your motherboard doesn't have such a slot, there's only one way to unleash the speed: a PCIe add-in card (AIC). These add-in cards will fit in a spare PCIe x4 or x16 slot and are monstrously quick, as well as monstrously expensive.
What's the difference between PCIe 3.0 and PCIe 4.0 SSDs?
Like many different kinds of technology, the PCI Express (PCIe for short) interface has had many different generations over the years. Most new CPUs and motherboards these days provide PCIe 4.0 support, though PCIe 3.0 is still very widely used, hence why 3.0 SSDs are still releasing. The main difference between them is the amount of bandwidth they have to move data back and forth between different parts of your PC.
Bandwidth doubles every generation. PCIe 3.0 currently has a bandwidth of 32GB/s, as well as a bit or data rate of 8 gigatransfers per second (GT/s). However, PCIe 4.0 doubles that to a bandwidth of 64GB/s and a bit rate of 16 GT/s, making it much, much faster at moving large quantities of data around.
What size SSD should I buy?
The minimum SSD size I'd recommend these days is 500GB, as this will give you enough room for your Windows installation (around 20GB), a few big games, plus all your music, photos and any other programmes you might need. However, if you have a particularly large photo and music collection, or just like having lots of games installed at the same time, then I'd recommend bumping it up to the 1TB mark.

To get the most gigs for your money, you could get a smaller SSD - even as little as 256GB - as your main drive and augment it with a 1TB or 2TB hard drive. Just remember, though, that any games or apps saved on the HDD won't benefit from the SSD's much faster speed. I'd still suggest going for the biggest SSD that your budget will allow.