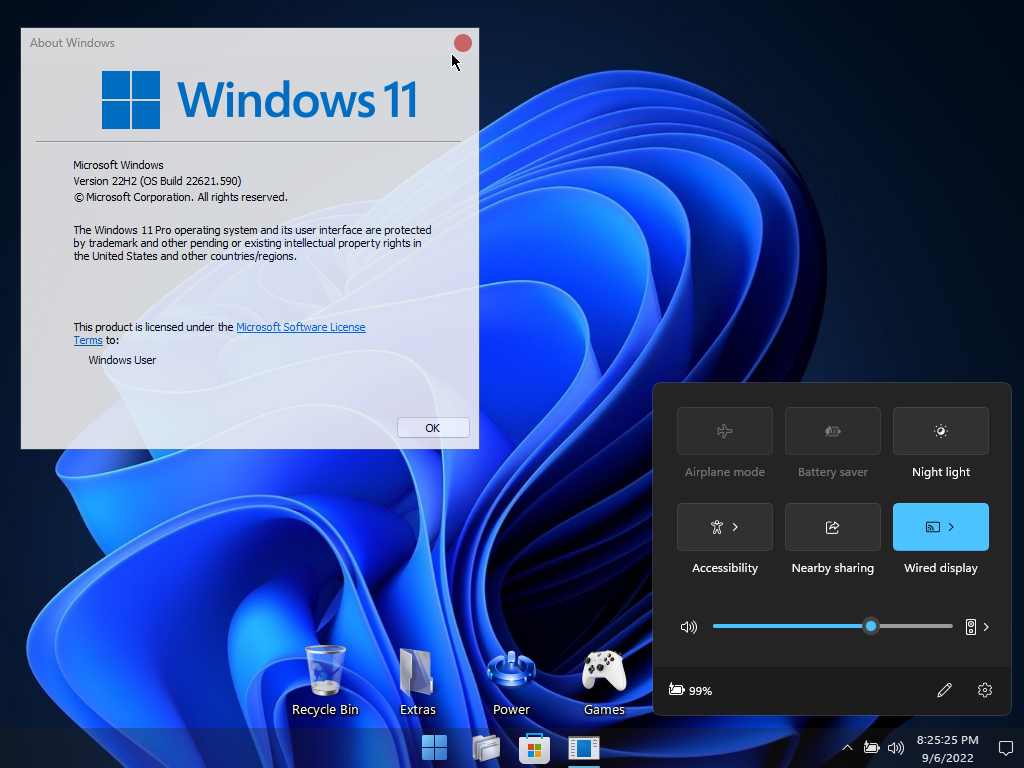 FBConan Proudly Presents:
– Windows 11 22H2 Pro LiTE (En-US) ★ Build 22621.590 –
​
DESIGNED TO BREATHE NEW LIFE INTO YOUR PC

EXTREME PERFORMANCE FOR YOUR APPS AND GAMES!

BYPASSES TPM, SECURE BOOT, RAM, CPU, AND STORAGE CHECKS!

BYPASSES FORCED MS ACCOUNT CREATION / SIGN IN DURING SETUP!

– FIXES / IMPROVEMENTS / CHANGES –

FIXED SCREEN FLICKER ISSUES IN APPS AND GAMES

IMPROVED GAMING PERFORMANCE

GAME BAR POPUP NOTIFICATIONS DISABLED

SNAP LAYOUTS ENABLED
​THE BEST Ultralight build of Windows I've ever made or used!.
This build integrates the latest cutting edge features including the newly refreshed UWP Apps, and File Explorer Tabs, which I have painstakingly enabled.
If you care about Cumulative Updates, Defender, Backup and Restore, Diagnostics, Troubleshooting, Optional Windows Features (like Hyper-V, WSL, WSA), Windows Mail, or OneDrive, This Build is NOT for You.
If you don't care about those Features, and are looking for the most streamlined version of Windows 11 22H2 available, that still supports all 3rd party software, MS Store, Xbox, UWP, and features like Printing, Bluetooth, WLAN, Touchscreen, Language Packs, is designed to be as efficient, stable, small, and powerful as possible, and designed to stay that way, This IS the Build for you!


Removed Features – Cortana, Edge, BitLocker, WSL, Hyper-V, One Drive, Smart Card, Smart Screen, Defender, Security Center, Windows Mail, Backup and Restore, Diagnostics, Troubleshooting, Maps, Optional Features, Some Fonts, Some UWP Apps.

Disabled Features – Windows Update Service, Error Reporting, UAC, Ads, Telemetry, Virtual Memory, Hibernation, Power Throttling, Automatic Maintenance and Download Blocking.

Performance Prioritized – This build has been designed to Maximize Performance, Responsiveness, and Resource Savings.

Enabled Features:
DirectPlay
.NET Framework 3.5
File Explorer Tabs
SMB1

Additions:
Custom Taskbar

Custom Start Menu

Custom Desktop Icons
Custom Recycle Bin Icons

File Explorer Tabs Enabler / Disabler
Custom Performance Settings

Custom Power Settings
Custom Ease of Access Settings


Custom Service Settings
Custom System Settings

Custom Registry

Classic Games
Selective System Transparency

Additional Wallpapers

Custom Themes
Virtual Memory Enabler

Web Browser Installers

Tinywall Firewall
Everything Search Engine

WinAeroTweaker

Custom Tools Menu

Build Authored by FBConan.


• Use Rufus ONLY to write the ISO to a USB Drive.
• Boot from the USB Drive, and Perform a Clean Installation to your desired partition.
• *Your PC Will Reboot Once, Shortly After Installation Completes.

How to Change System Language:
• Enable Metered Connection First Before Proceeding! (VERY IMPORTANT!).
• You got Metered Connection Turned On? Good! Just Double Checking!
• Go to Start Menu ➞ Tools ➞ and click the 'Windows Update Service On' Shortcut.
• Go to Settings App ➞ Time & Language ➞ Language & Region.
• Click the 'Add a language' Button.
• Choose a language to install from the list, Then Click 'Next'.

• If Font Characters are Missing in the Language List, Install the Fonts Linked in the 'Recommendations' Section of this Thread.

Other Tips:
• The Print Spooler Service, and Windows Update Service are DISABLED By Default.
• In the Start Menu ➞ Tools Folder, you can easily turn them On, or Off.
• To Install Printer Drivers, and Print, You must turn ON the Print Spooler Service.
• To Use the MS Store, Install Additional Languages, Use Xbox App, and Allow Windows to download drivers, you must turn ON the Windows Update Service.

• I've included a new Feature in this build! in the Start Menu – Tools Folder, you can turn ON or OFF File Explorer Tabs! – They are still in development, and may cause issues such as explorer crashing, if you want to turn them on or off, now you can EASILY do it! Restart is required after running the shortcut to complete changes.

System Transparency is DISABLED By Default
To Enable it, go to Task Manager – Startup Tab – and change 'clear.exe' from Disabled, to Enabled, and Sign Out!


I highly recommend you download and install DX9 and VC++ Runtimes, you can download them HERE

If you're missing Font Characters, I highly recommend you download and install the Fonts found HERE

For AMD Ryzen Powered PC's

, please download the Chipset Drivers found at the bottom of my thread HERE

If you have any issues Installing this Build on your PC, Please Read my tutorial, on how to fix those issues, in part 6 of my tutorial HERE

I recommend you enable a paging file, (Virtual Memory), to help prevent Apps from crashing / closing unexpectedly if you run short on physical RAM. Run the Included 'Virtual Memory Enabler' App to enable.

Spoiler: Click Here For The Pics!