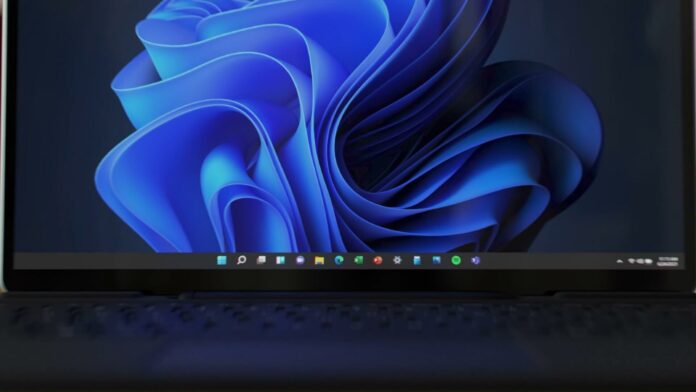 Microsoft has again rolled out a server-side update that pushes Bing.com to those who use Google or other search engine in Google Chrome for Windows 11 and Windows 10. The company has been constantly facing backlash from users irritated by the intrusive pop-ups appearing on Windows 11, but it's showing no sign of slowing down.
Last week, we reported how Edge flagged ChromeSetup as harmful, and recommended users keep using Edge via three large pop-ups. In its latest attempt to push Bing and Bing Chat AI, Microsoft is testing a new pop-up on the desktop's right lower side above all apps and games.
The pop-up, part of an initiative to promote Microsoft Rewards points and Bing Chat, invades various Windows 11 settings, such as notifications and focus assist, and even appears during gaming sessions. Some users told us they received the pop-up when playing a full-screen game.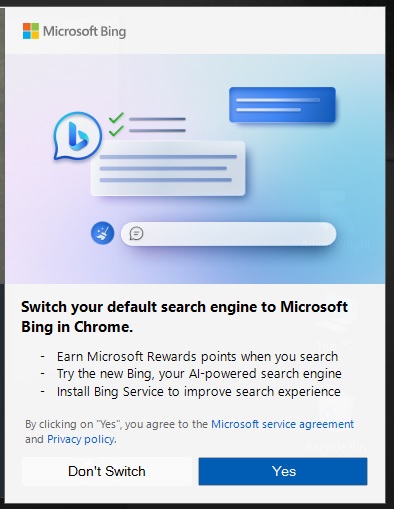 This is particularly interesting as full-screen games automatically turn off all notifications in the operating system. Microsoft is allowing its Bing pop-ups to bypass Windows 11's settings, so some of you may see the alerts even when playing games, watching videos and streaming content.
The "Switch your default search engine to Microsoft Bing in Chrome" pop-up reads: "Earn Microsoft Rewards points when you search. Try the new Bing, your AI-powered search engine. Install Bing Service to improve search experience."
The alert is triggered by a file located at C:\Windows\Temp\MUBSTemp\BGAUpsell.EXE, associated with Microsoft Bing Service 2.0, an update for Windows 11 and 10 to enhance the Bing experience. This file is most likely used by Windows Search and other features where Bing is integrated.
The BGAUpsell.exe file is also used to display Microsoft Bing or Edge-related notifications in Windows 11.
Interestingly, a quick analysis of the BGAUpsell.exe file revealed an attribute called "IsEdgeUsedInLast48Hours," which appears to check when Microsoft Edge was last used. The alert may be triggered if Edge has not been used in the past 48 hours.
Additionally, it looks like Microsoft can detect whether Google or another search engine is used in Chrome, and if so, the pop-up appears.
While Microsoft has been promising to give users full control over browsers they use in Windows 11, users are frustrated by these pop-ups, which they perceive as an invasion of privacy and an aggressive push to use Bing and Microsoft Edge.
Update: Microsoft told us they paused the ads on Windows to investigate the reports.